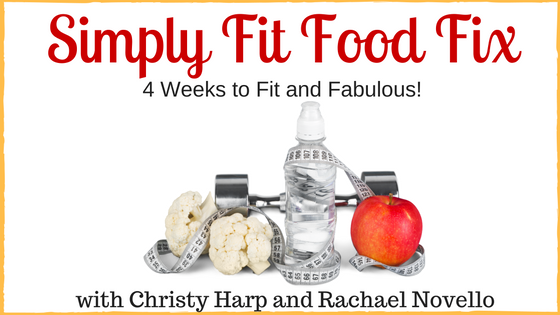 Welcome to the Simply Fit Food Fix with Christy Harp and Rachael Novello!
Need to break a plateau? Just getting started on your food and fitness journey? Looking to get back into it? We can help!
Harnessing the power of our combined knowledge, we have created the MOST EFFECTIVE food and fitness program on the market, guaranteed to give you the results you are looking for!
Christy is a Professional Chef, Certified Weight Management Specialist, and a Pilates Pro, while Rachael is a Certified Personal Trainer,  Fitness Nutrition Specialist and fitness studio owner. Combine all these credentials, and it adds up to superior expertise for everything you need to become fit and fabulous in 4 weeks!
We include absolutely everything you need to be successful. No more wishy-washy low carb diets, or training for hours at the gym. No more starving yourself or running 5 miles a day! No more guessing what to eat or how to perform an exercise. With our program you will get…
*A top-notch workout plan from Rachael that will work all areas of your body, with active recovery days each week. Legs, arms, abs, back, core and HIIT trainings are included to maximize your fat burn and torch your metabolism. She will teach you the right way to exercise and the "why" behind it.
*A Chef created meal plan with daily meal ideas, as well as parameters for snacks and meals if you choose to or want to deviate from Christy's suggestions.  You will also have days where you can totally treat yourself with all your favorite guilty pleasures! Talk about flexibility!
*A complete nutrition course to help you understand what we are eating, on which days, and WHY. Are carbs necessary? Yep! Do you really need to eat some fatty foods? Check! How much protein is too much? We'll tell you! We will walk you through the reasons behind carb cycling and intermittent fasting (no 4 hour "feeding windows" here!), as well as the pros and cons of the "mini meal" concept. No nutritional stone will be left unturned!
Our 4 week program (5 including a prep week) is unparalleled in it's results, and we promise you will never feel deprived. What can you expect?
*You can expect to feel a ton more energy, as well as more mental clarity and focus.
*You will increase your knowledge of nutrition and turn your body into a fat burning machine via our exclusive workouts and meal plan.
*You will engage in a 9 hour "eating window" each day, leaving your body time to break down the fat. Sounds like deprivation or too much? It's not. We will walk you through it and show you how you can totally customize it to fit your busy schedule!
*Fat loss and muscle gain. We focus on muscle gain, as muscle burns fat, even while you are sitting on the couch watching The Bachelor!
*Learn how to pair you food and workouts for maximum impact!
*5 workouts per week, and 2 active recovery days, with modifiers to suit all activity levels.
*A meal plan/guide featuring Christy's rave-reviewed recipes (over 75!), with the option for treat days and to create your own meals, as well as an approved foods shopping list.
BONUSES!
*A sampler pack of Christy's top-selling (4000+bottles in 6 months!) Handcrafted Seasoning Blends, which are used in many of the recipes.
*Anytime access to Christy and Rachael via our private Facebook Community, where you can interact with fellow participants as well as your assigned accountability partner.
*Opportunity to win prizes like a Target gift card, a personalized 1 month training package from Rachael, and all-access to Christy's private recipes!
AND MORE!
HOW MUCH IS IT?
 $195! That's it!!! This package should realistically be upwards of $500, with all the amazing bonuses, exclusive recipes and killer workouts! There is just no way that you can find anything like this, with full access to 2 highly credentialed pros for $35/week. No way! Additionally, we have made 2 payment options available, just because we love you!
You have absolutely nothing to lose with our money back guarantee. If you go through the whole program, put forth your best effort, and are not satisfied with your results, we will refund your money.
We are only opening up 30 spots each round, so claim your space before it's taken…they fill up fast!
Our next round begins February 13th with a prep week that includes your nutrition and fitness mini-courses. Your exercises and meal plan will begin February 20th.
Click below

 for a one-time payment of $195.
Click below

 for 2 payments of $101. (This option is more to cover the PayPal fees)
Still have questions? Fill out the form below and we will back in touch with you ASAP!
Once you have purchased, please CLICK HERE to join our Facebook group.