CREATED BY PROFESSIONAL CHEF & CERTIFIED NUTRITIONIST CHRISTY HARP (aka Tiny Little Chef)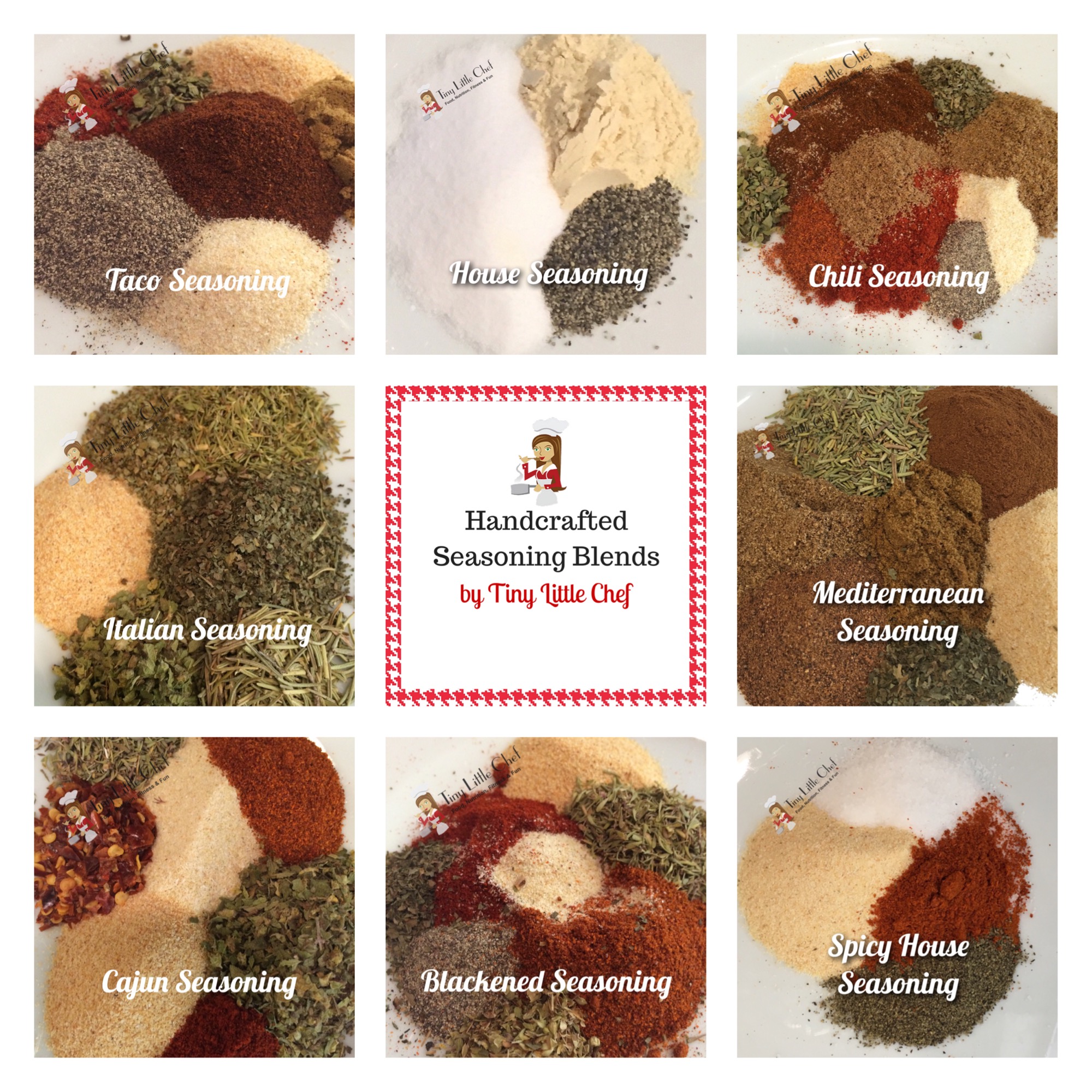 ALL HANDCRAFTED SEASONING BLENDS ARE…
*Made with top-quality herbs and spices imported from around the world.
*Organic, Gluten Free, Dairy Free, Non-GMO, MSG Free, Paleo Friendly.
*Contain no added sodium, sugar, preservatives, coloring, flavors or anti-caking agents.
*Available in singles ( 5.5 oz. sizes) or 4 or 8-packs (sampler (2 oz.) sizes only).
---
Skip that store bought stuff! Who knows what's actually lurking in there…besides extra sodium, sugar, preservatives and anti-caking agents!
In Culinary School I was known as "The Master of Seasoning," so it is with great joy that I am able to offer you these handcrafted seasoning blends, from my kitchen to yours.
How did these seasonings come to be? Well, let's just say it was a bit out of left field! For while now  I have a had a recipe membership site, where my clients pay to access over 17 years of my Chef created recipes. Well, I was giving them the recipes (some of which I have been blends for close to 2 decades!), and they LOVED them, but I was getting questions like "These are amazing, but now what do I do with this bottle of marjoram?" and "Can you bottle these for us?"So, I did a ton of research, ordered the best herbs and spices I could find, had some bottles shipped to me, and the rest is history!
Within 4 months I had sold close to 3,000 bottles! It was about that point where I decided to really run with this idea and see where it could lead. And I'm loving it! 
Using only the finest imported herbs and spices, you can be assured that there are no artificial ingredients, no sugar, and absolutely no additional sodium (please note that the House, Spicy House and Taste of Arizona contain Sea Salt).
A note about "clumping"…there are a few spices that naturally have a higher moisture content than other…(most chiles and paprika). This higher moisture content can lead to clumping, and mass-produced spice companies use "non-caking agents" such as calcium carbonate, magnesium carbonate calcium silicate and silicon dioxide, and are not required to put that on their ingredient label. I DO NOT use these in my spices. That being said, you may see clumps or hardening in a few of my blends that contain chili powder and paprika (Blackened, Cajun, Chili or Taco). Rest assured that they are totally ok and still taste delicious. If clumping or caking occurs, just simply break apart with a knife, fork, or your hands.
Be sure to store your Handcrafted Seasoning Blends in a cool, dry place. In a cupboard is ideal.
---
INGREDIENTS
BLACKENED: Paprika, garlic powder, onion powder, thyme, black pepper, cayenne, basil and oregano.
CAJUN: Garlic powder, onion powder, paprika, oregano, thyme, cayenne pepper and black pepper.
CHILI: Chili powder, garlic powder, onion powder, paprika, cumin and basil.
HOUSE: Fine ground sea salt, garlic powder and black pepper.
SPICY HOUSE: Fine ground sea salt, garlic powder, cayenne pepper, and black pepper.
ITALIAN: Basil, garlic powder, marjoram, oregano, thyme and rosemary.
MEDITERRANEAN: Cinnamon, coriander, rosemary, nutmeg, garlic powder and basil.
TACO: Chili powder, garlic powder, onion powder, oregano, paprika, cumin and black pepper.
TASTE OF ARIZONA: Sea salt, garlic, cilantro, cumin, coriander, paprika and cayenne.